I believe that there are two fundamental aspects that anyone with an interest in investing in the financial sector should learn. The first is the concept of excess returns (ER). The second is the FOMC cycle.
Financial investing is much better when your world view contains these two concepts. Not only are they logically pleasing, but they also give you an edge over investors using the standard counterparts – namely, discounted cash flow (DCF) and seasonal market cycles. Let's go over these concepts and then apply them, as, after all, right now is a timely opportunity to do so.
Why timely, by the way? You probably are already well aware that the financial sector, as tracked by the SPDR Financial Sector ETF (NYSEARCA:XLF), has rallied nearly 20% after Trump was elected. We should be asking ourselves whether the rally is justified and whether it will continue or pull back.
My gut tells me that the rally is unjustified. The main catalyst for the 20% increase in this sector's stocks was a set of expectations related to a Republican president and congress; this team is expected to reduce taxes, increase interest rates, and lighten regulations on the financial sector. Fundamentally sound reasoning, yet we have seen no actual steps taken in any of these areas; the market has likely gotten ahead of itself.
Whether the market needs to pull back is related to whether financial stocks have become overpriced. I've mentioned many times in the past couple of years that the financial sector was underpriced to begin with and has been so since 2008. Investors have wet feet about returning to a sector that did so much harm to their portfolios only a decade ago.
Now, in contrast, everyone seems to be in a rush to buy banks and insurance companies. Where do these stocks currently stand in terms of valuation? This is a hard macro question but can be rather easily answered case-by-case.
For this analysis, I've chosen Morgan Stanley (NYSE:MS), mainly because it appears to be the only major bank I have not yet targeted for an ER analysis. An analysis for MS is overdue. Let's begin.
We start with our first mandatory topic for financial investors: excess returns. Because banks do not create actual products but instead reinvest the cash of their customers, we cannot accurately valuate them via DCF. DCF also contains metrics that do not sit well on banks' balance sheets and are often the target of "creative accounting."
Rather than investigate and estimate banks' future cash flows, we investigate and estimate the excess returns made by banks' investments, excess returns that are later passed onto investors. The overriding idea here is that a bank that does better with investing than you would, making no assumptions about you as an investor, should be valuated at a higher price than other banks and other investments. This concept is a way of quantifying opportunity cost – the return on investment you would receive from a general market investment.
The ER calculation for a bank is not exactly an easy process. Fortunately, I've done the hard work for you and for myself by coding most of the process. My code also contains yearly calculations, avoiding the common problem of only valuating a bank at a specific point in time and allowing us to see the trend of the valuation.
I ran my code for MS. The results follow. ERM stands for "excess returns model":
The story of MS for the past 16 years follows. MS's investments improved quickly into 2008. The stock took a hit, but the investment practices of MS and their returns did not change significantly.
The stock was clearly underpriced in 2008 and slowly rebounded. Sometime in 2015, the stock was fairly valued as per ERM. It took another hit, climbed back once more and now sits at 8% overpriced, partly thanks to the recent rally.
However, because the ERM valuation has been on an upswing, perhaps 8% overpriced isn't unreasonable. Still, ERM's valuation growth has slowed significantly in the past five years, implying that we should not expect much growth in MS moving forward. Is the rally in MS justified?
Probably not. Should we look at MS from more angles before answering? Of course, but bank stocks are nonetheless some of the most elementary investments on the market, summarized in essence by two questions:
"Can this bank invest my money better than I?"
"Is my money safe in this bank?"
The first question is answered quite elegantly by the ERM valuation. The second question is more fundamental than financial; it requires you to do research on default probabilities and exposure to risky investments. The second question is much more subjective than the first, and for now I leave answering it for MS in the hands of other analysts.
Moreover, the recent rally is more related to question 1 than question 2. So consider the question answered: The rally is not supported by the actual political environment and has brought MS to an overpriced region. The remaining question is only for those who agree that MS will experience a pullback: When should we short MS if we choose to do so?
Here enters the second important concept for financial investors: FOMC seasonality. Unlike the general market, FOMC meetings have a strong impact on bank stocks. We typically see the impact around the time of the meetings, as investors prepare for rate changes by buying or selling their bank investments.
I typically look at how the 30-day returns of a bank stock change depending on where in the FOMC cycle the investment is made. Running this calculation on MS gives the following: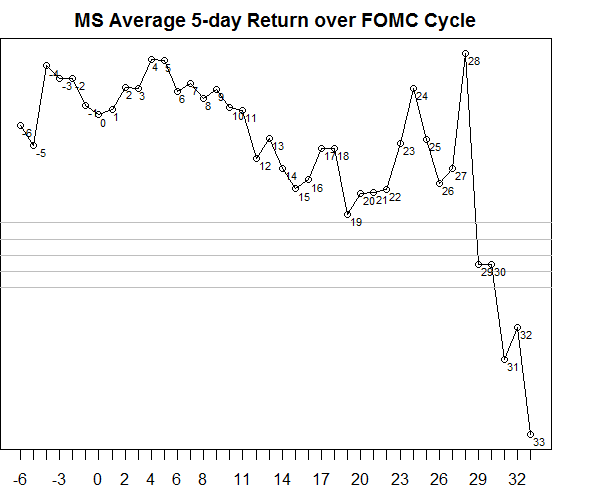 Clearly, MS does worst right before a FOMC meeting. But with rates unchanged for February (the point of the meeting essentially known), MS's most likely time to fall has already passed. Thus, MS's overvaluation could very well hold through much of February, but I still expect an eventual pullback.
I say this is one of those times for a sideways, delayed bear play. A diagonal calendar spread will allow us to profit from no significant direction movement, from a later pullback, and from any increasing volatility actions. Here's my suggestions for both XLF and MS:
MS:
Sell Mar17 $42 put
Buy Jun16 $38 put
XLF:
Sell Mar17 $23 put
Buy Jun16 $22 put
Happy trading.
Notes:
Note: Get my articles as soon as they are published by clicking the big orange "follow" button at the top of this page. Make sure you choose "real-time alerts." Trade alerts sent through "Copy My Trades."
Note: All unlabeled figures were created by me from data pulled from Yahoo and ADVFN through The R Project. Charts with blue backgrounds are from E*trade Pro. Fundamental charts from a paid subscription at Simply Wall St.
Gap Trading
I bought my trading career on gap trading. See this quick guide for 11 ways to trade gaps.
Upcoming Earnings Predictions
Exposing Earnings – click here for my earnings predictions. To date, we are 94% accurate on earnings report predictions.
Disclosure: I/we have no positions in any stocks mentioned, and no plans to initiate any positions within the next 72 hours.
I wrote this article myself, and it expresses my own opinions. I am not receiving compensation for it (other than from Seeking Alpha). I have no business relationship with any company whose stock is mentioned in this article.