History
In September 2017, I wrote an extensive investment thesis regarding Daqo Energy (DQ). Fortunately, my thesis came to fruition quicker than I expected and we captured the 130% gain in less than 4 months.
Source: Tipranks
However, since mid-May the stock price started dropping from $65 to $24. The drop was mainly due to new tariffs imposed on polysilicon, new Chinese regulation stopping subsidies for some type of PV projects and the general uncertainty surrounding the USA-China trade war.



Source: Google Finance
In this article, I will review the industry and DQ updates since the last article and evaluate whether investing into DQ again is worth it. Is DQ a two trick pony?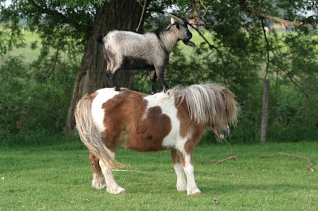 Source: Beckie Banks
Operational Updates
Since September last year, DQ expanded its capacity from 18,000 MT to 25,000 MT. By the first quarter of 2020, DQ plans to reach 70,000MT.
Source: Company 3Q18 presentation
DQ still is a small-mid size polysilicon producer. In 2017, China produced around 242,000 MT poly while DQ provided just 20,000 MT. However, currently DAQO has a cost of USD 8.94 per kg making it among the lowest producer in the industry which is reflected in its high EBITDA margin that even larger operators have not been able to replicate. For example, OCI is the largest global exporter, but they have not been able to enhance margins significantly, standing at 18% as of 3Q18.
The following graph shows the cost curve of polysilicon:
Source: RecSilicon investor presentation 3Q18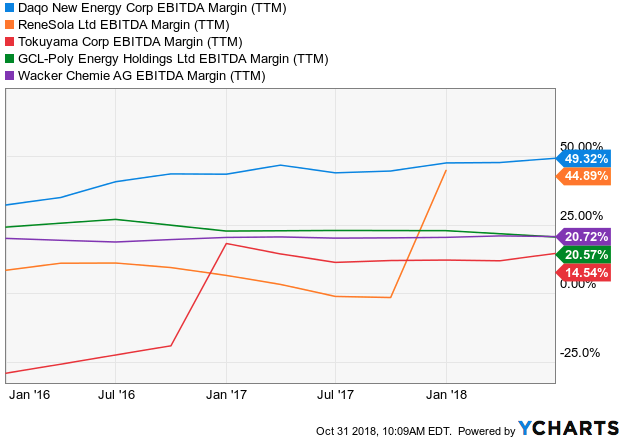 Source: Ycharts
In September, DQ announced that it is exiting the wafer business due to tough market conditions. In 2017, wafer generated 16% of revenues. However, exiting the business should not decline the revenues by the same magnitude as it will generate revenues from the polysilicon that was used for wafer production. The closing of multi-Si wafer operations is becoming a industry-wide phenomenon following the May Chinese policy announcement and mono-Si operators seem to stay in operations instead.
On the positive side, while DQ never opened up the margins of the two businesses, I suspect the wafer business had a lower margin than the polysilicon business due to the challenging environment of the wafer industry. Thus, DQ margins should expand as they focus on their core business.
The industry
Since 2010, the LCOE of Solar PV has declined by three quarters. While still slightly more expensive than onshore wind and traditional energy sources, the gap is reducing and should close within the next couple of years. Why is this important? Once LCOE of solar PV becomes the cheapest or equivalent of all the sources, no subsidies would be needed for demand growth.
Source: IRENA Renewable Cost Database
During the last year, the Chinese industry has consolidated. There are 22 polysilicon producers in 2017 with a total capacity of 280,000 MT where the top 10 producers account for 70% of the industry (Source). I expect consolidation in the Chinese market to happen as many marginal producers cannot survive at the current price levels.
The valuation
Valuation-wise, while DQ has the highest margins in the industry, its stock is trading at the lowest historical multiples (1.8x EV/EBITDA and 0.5x P/B)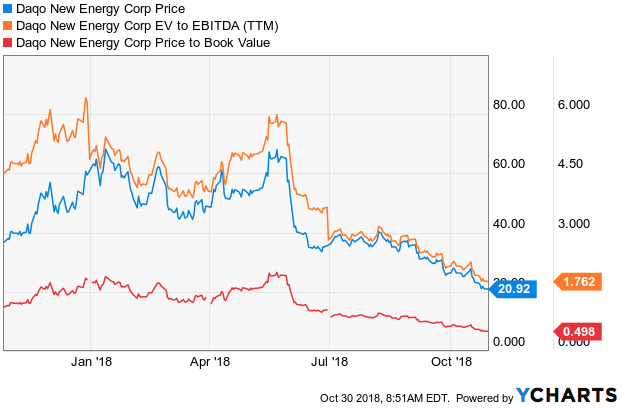 The price of polysilicon in China was trading at a premium over international prices. However, once the new Chinese regulation came out on May 31, 2018, Chinese polysilicon prices dropped below international prices. The new regulation stops subsidies to ground-mounted PV projects (you can read more about it here).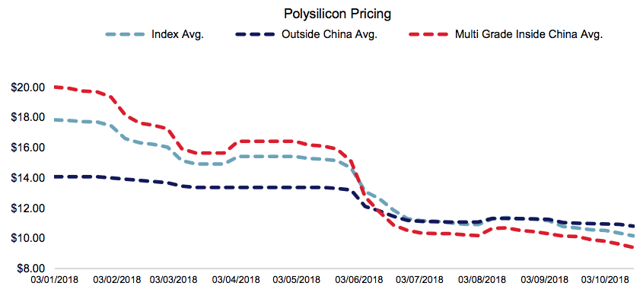 Source: RecSilicon investor presentation 3Q18
I believe that prices will recover as the marginal producers has a cost of $18-20. That being said, cheaper capacity is coming online in the medium term. I was able to find four producers with expansion plans totalling 150,000 MT as detailed below.
| | | |
| --- | --- | --- |
| Company | Capacity Expansion | Planned date |
| Daqo Energy | 35,000 MT | 1Q2020 |
| GCL | 40,000 MT | 4Q2018-1Q2019 |
| Tongwei | 40,000 MT | 4Q2018-1Q2019 |
| Xinte | 36,000 MT | 2Q2019 |
This new capacity would result in the cost of the marginal producer to drop to $15 based on the previous cost curve. For my valuation, $15 price was assumed in the medium term dropping to $12 by 2028.
Based on a WACC of 10.5%, the DCF gives a value of $59 per share or 5x EV/EBITDA 2019.
Currently, DQ is trading at 1.8x EV/EBITDA, 0.5x P/B and 5.4x P/E. All this keeping in mind that it has the highest EBITDA margin compared to its public competitors.
Lowest multiple EV/EBITDA: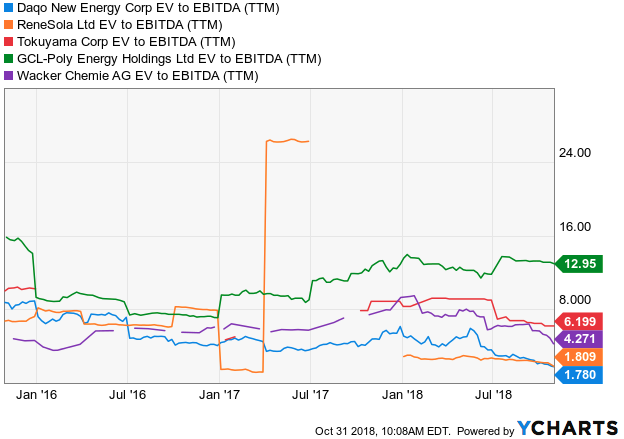 Low P/E: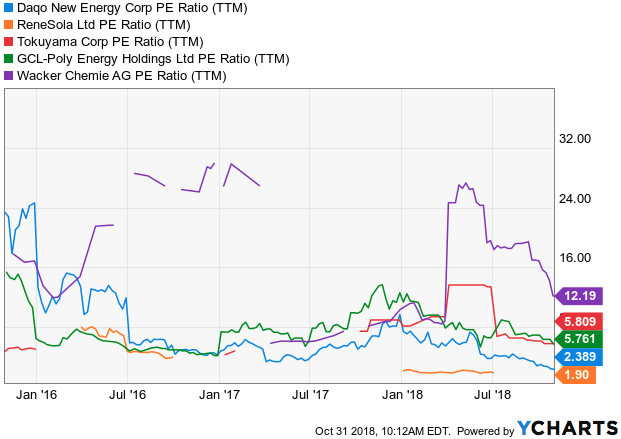 Lowest P/B: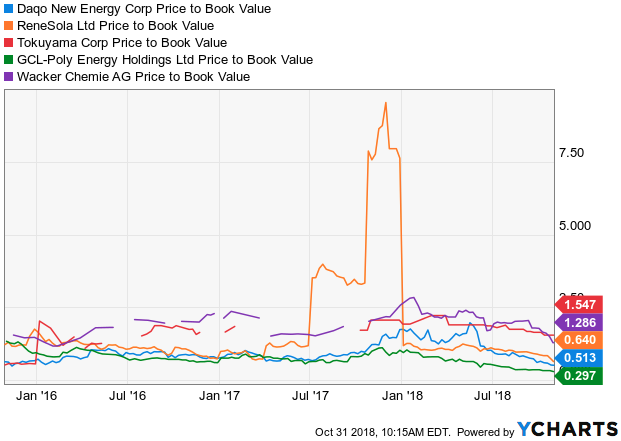 The catalyst
Three main catalysts that I foresee are potential favorable Chinese policies, stoppage on the USA-China trade war, recovery of the polysilicon prices and the potential acquisition of DQ by a larger player.
The risks
Currently, the main risk is regarding tariffs. The US solar industry imposed a 30% tariff in February and an additional 25% in August. While most of DQ clients are within China, this tariff may have a spillover effect. For a full list of risks please refer to my original article.
Conclusion
DQ has demonstrated to be a solid company run by a professional management team that has delivered on their promises. However, the stock price has been punished for industry-specific events. While, DQ has expanded capacity, the price of polysilicon declined from $16 to $10 due to the new Chinese policies. I believe current prices are not sustainable and it should recover driving DQ stock price to its intrinsic value.
Disclosure: I am/we are long DQ.
I wrote this article myself, and it expresses my own opinions. I am not receiving compensation for it (other than from Seeking Alpha). I have no business relationship with any company whose stock is mentioned in this article.
Additional disclosure: If you enjoyed this article, you could read my previous articles on my profile. These are good examples of the type of research we do at RedFox Capital E.I.R.L. (www.redfoxcapital.net).